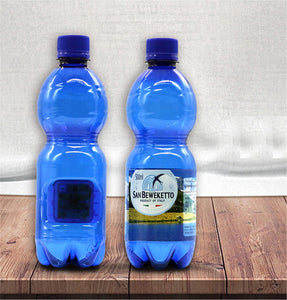 Why should you get the Water Bottle HD 1080p Spy Camera?
Casey Neistat a popular YouTuber reviewed and complimented our Water Bottle with HD camera recently. Most people nowadays are very focused on staying safe online. But what about real life? Spy cameras can easily be used to record us on a day to day basis, and the worst part is that you won't even notice that you get recorded with something like that. And this is where the Water Bottle HD 1080p Spy Camera comes into play.
What is this product?
This unique device is all about offering you a simple method of recording people that are unaware about the spy features included in the water bottle. So yes, the entire package is a water bottle whose shape is a bit modified. In the missing portion you will need to integrate the camera module, and then you can use that to record people whenever you want. The interesting thing about this is that you can easily add a 64 GB SD card or a smaller one if you can. You can easily use this as surveillance if you want, or you can record unaware people whenever you want.
Another nice feature included with the Water Bottle HD 1080p Spy Camera is motion detection. The product isn't that impressive at first, but the fact that it has motion detection and it automatically starts recording if you want to is something you will like quite a bit.
Is the Water Bottle HD 1080p Spy Camera heavy?
What you should note is that the Water Bottle HD 1080p Spy Camera is a bit heavier than a regular water bottle. But then again, it's not very heavy, so it can easily pass as a water bottle. Do make sure that you align the dot in the added paper piece with the camera module itself. This way you will have no problem recording everything in no time.
What about battery life?
The thing to keep in mind when you use a spy product like this is the battery life. Maybe the best thing here is that you can easily record up to 180 minutes. The video quality is 1080p, and that's what makes the entire experience worth it here. While you won't have the same quality when compared to some other cameras out there, this is still a very good camera considering the price and how the unit works to begin with. Yet the simple fact that you record with it for up to 3 hours is more than amazing. You don't need more than that most of the time, so just check it out.
Is the WaterBottle HD 1080p Spy Camera worth it? If you're looking for an inconspicuous camera that's easy to carry around, then this is a really good option. Even if you look directly at the unit, it will be very hard for you to see the spy camera in there. So yes, the unit is well worth checking out, especially if you want to record people or a certain location. And the price is not that high, which makes it a very good purchase!
---